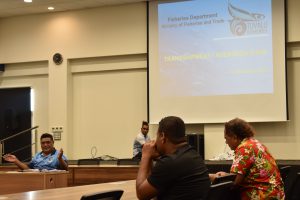 A consultation on Fisheries Transhipment under COVID 19 restrictions was held this morning at the Tomasi Puapua Convention Center to clarify to the public the process, rules and regulations when transhipment activity starts again in the Funafuti lagoon in the near future.
The Director of Fisheries, Samasoni Finikaso explained the need to allow transhipment back into the Funafuti lagoon and as well as explaining the conditions rules and procedures.
The Director of Fisheries, Samasoni Finikaso said, "Transshipment activity in the lagoon ceased since lockdown in early 2020 due to Covid-19. Since then, there have been problems with loss of revenue, and fishing crew injured by working under unsafe conditions when transshipping outside the lagoon". He explained that all vessels would be checked to minimize the risk that they have any COVID cases on-board before being allowed to enter the lagoon; and that there would be no contact with the vessels or their crew at any time.
More than 40 people attended the consultation, primarily fishers. A number of participants shared their opinions and ideas to this transhipment consultation, for example:
Mr Soloseni Penitusi stated that he agreed with the idea of bringing back transhipment activities in the Funafuti Lagoon and that he also approved the conditions, rules and regulations for transhipment. He added, "I can't see any danger with this transhipment operation within the Funafuti lagoon where the presentation was given was simple and straightforward that there will be no contact with these vessels at all".
Mr Launiu Pelosi commented, "The designated area within the Funafuti lagoon is too small, so I think the Task Force should reconsider to enlarge the transhipment designated area in considering the safety of seafarers, and of course with the utmost hope for the COVID-19 Task Force to make some slight changes to terms and conditions in future operations so our observers can also work onboard during transhipment".
The Fisheries Department made preparations some months ago by creating and producing awareness materials and has just been waiting for some legal issues to be cleared up. Posters were distributed today to participants during the consultation and a short video will be shared on the Fisheries website, FaceBook page and Tuvalu TV before transhipment in the lagoon starts on the 5th of January 2022.