RV Manaui II Available for Charter in Tuvalu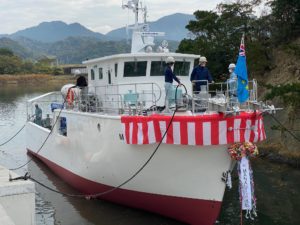 The RV Manaui II was generously donated to Tuvalu by the Government and people of Japan in May 2021. She replaces the old Fisheries research vessel, Tala Moana, and provides a much more economical means of sea transport.
Manaui II is operated and managed by the Fisheries Department of the Tuvalu Ministry of Fisheries and Trade. The vessel is used to carry people and small amounts of materials to Tuvalu's outer islands for fishery resource assessment and management work, disaster risk management, governance and other development tasks. Manaui II is a live-aboard vessel with galley, workspace, power supply and her own water desalinator that allows teams of people to live and work effectively on board. Specifications of the vessel are as follows:
| | |
| --- | --- |
| Fibreglass hull: 19 m overall length, breadth 5 m, depth (molded) 2.1 m. | Yanmar 6HA 2M (204 kW) diesel main engine |
| VHF/ HF radio, radar, GPS, echo-sounder | Fully air-conditioned, multiple electrical power outlets |
| Service Speed – 9 knots | 5,500 liters fuel, onboard desalinator, range approx. 1,000 n. mi. |
| Fully crewed and manned (6 officers and crew, including cook) | 10 passenger limit, with bunks for each passenger in  4-person and 6-person cabins |
| 2 toilets, 1 inside shower, 2 showers on deck | Spacious after deck for wet work and small amounts of cargo |
| Outboard-powered dinghy and 1-tonne  crane | Stern platform for small boat access and diving |
Manaui II operates exclusively on a charter basis. When in use by the Tuvalu Fisheries Department (TFD), the Department is responsible for paying all charter costs. In between TFD missions, Manaui II is available for charter by other Tuvalu Government departments, development projects, donor agencies and private groups.
All charters begin and end in Funafuti. Charter costs are made up of two parts:
A flat daily charter fee which covers the costs of crew allowances, ships power, rations and vessel maintenance – note that there are two rates, one for Tuvaluan agencies and individuals and a higher rate for foreign companies and visitors;
An hourly transit fee for each hour spent steaming between islands, to cover the cost of additional fuel use while travelling.
Any itinerary within Tuvalu can be accommodated, making it possible to visit one or several islands, for shorter or longer periods, without the difficulties caused by irregular inter-island shipping.
Charterers should indicate how many passengers they are proposing to carry. If space is available TFD may sell tickets for spare berths to the public, or place Fisheries personnel on board. This will not affect the charter fee or the schedule required by the charterer.
For more information on charter costs and vessel availability please send an e-mail to pafinif@tuvalufisheries.tv
2021 Charter Rates and Rules
The RV Manaui II is available for charter on a first-come first-served basis for inter-island travel and accommodation within Tuvalu. The vessel has a strict limit of 10 passengers, who can each be provided with a bunk.
Charter and Transit Fees
Charter costs for the RV Tala Moana are calculated as follows:
A daily charter fee of A$1,200 for every day or part-day of voyage for Tuvaluan nationals, Government Departments and other national agencies. For foreign nationals and companies the daily fee is A$2,000. Charter fees cover crew allowance, fuel consumed for ships power, rations for all crew and passengers, and a contribution to annual maintenance costs. Charter fees are payable from when the vessel leaves Funafuti port to when it returns.
An hourly transit fee of A$100 for every hour or part-hour of inter-island steaming undertaken during the voyage. This fee covers the cost of additional fuel consumption by the Manaui II while in transit.
Transit fees between pairs of islands are shown in the table below, based on estimated steaming times between islands at an average speed of 9 knots.

Based on the above, the estimated cost of a 3-day round trip from Funafuti to Vaitupu for a Tuvaluan agency would be:
Charter fee – $1,200 x 3 days:   $3,600
 Transit fee – $767 x 2:               $1,534
 Total cost:                                 $5,134
The table can be used to estimate the cost of round-trip or multi-island voyages. However the final charges will be determined by the Tuvalu Fisheries Department based on the particulars of the voyage in question.
Additional passengers
When a charter involves fewer than ten people, the Tuvalu Fisheries Department may offer those places to other passengers at a cost of A$50 for a one way trip. No changes to the voyage schedule will be made on behalf of additional passengers.
Funafuti down-time
In some cases, charterers may wish to return to Funafuti for a few days in between trips to the northern and southern island groups, but retain the vessel ready for their immediate use. In such cases, the charter fee for each full day spent in Funafuti in mid-charter will be discounted by 50%. Charterers may leave their equipment on board the Manaui II during these times.
For information on vessel availability or a firm quotation, please e-mail pafinif@tuvalufisheries.tv