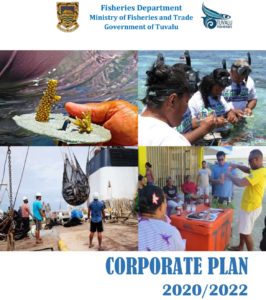 There are five collections within the Fisheries physical library which include: periodicals, references, general collection, audio/visual and the country (Tuvalu) collection.
The recent fisheries library repository includes 3,178 soft copies within the Fisheries library network shared drive, 223 hard copies within the physical library and 112 have been scanned and repaired. Recent Documents and fisheries publications have been uploaded to the website.
These documents (hard & soft copies) and publications in the library date back to 1978 covering all aspects of fisheries development and management carried out in-country.
We are in the process of recovering old reports and digitising them for general use. Many of these will be made available either on this website or by request.
This will enable the Fisheries Department to provide a better service to its clients in the future.
Matelina Stuart maintains the library and you can contact her via the contacts page.
Fisheries Publications
Corporate Plan
Annual Work Plans
Annual Reports
Fisheries Management
Technical Reports
Trip Reports / Fieldwork

Posters, Pamphlets and Stickers
Partner Projects
Fisheries Legislation