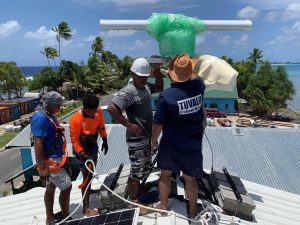 The Tuvalu Fisheries Department installed its new M2 radar scanner equipment at the TFD office on the 18th of March 2022 to monitor the accessibility of the public on Funafuti island to the transhipment area.
The M2 Radar scanner equipment was set up along the ridge cap of the TFD office with the only intent to protect Tuvalu citizens from getting COVID 19. Four observers have been recruited to support ocean staff in the installation process in recent weeks. The new equipment is controlled and supervised by the Vessel Days Scheme (VDS) and Oceanic Vessel Monitoring System (VMS) officers.
VDS/VMS Senior Fisheries Officer, Scott Pelesala, stated, "The TFD now has appropriate monitoring tools in place to monitor and control the accessibility of members of the public in the vicinity." He likewise added that on that point would be a high penalty imposed for any violation and that the department will be able to find and photograph images of an object going through the transhipment area's buffer zone.
This new equipment was part of the Fishery's main goal for this year's activities due to Covid 19 mitigation measures where transhipment was moved out of the Funafuti lagoon to an assigned region endorsed by the Tuvalu Government. Working with the U.S.-based non-governmental organization Anthropocene Institute, the Department of Fisheries made an effort and agreed to use a maritime radar observer to monitor the transhipment area.
New Zealand's Tuvalu Fisheries Support Program supported the idea by funding this new equipment, which cost over 100 thousand dollars.
M2 Radar scanner equipment was tested on the 23rd of March and now it's up and working.