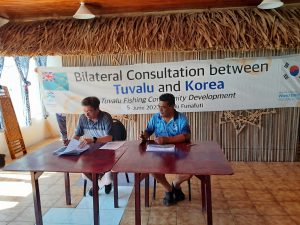 Officials of the Ministry of Fisheries and Trade of the Government of Tuvalu met on June 5th, 2023 on Funafuti with delegations from the Ministry of Oceans and Fisheries of Korea, Korea Rural Community Corporation, Korea Overseas Fisheries Cooperation Center, Coastal and Harbor Engineering Corporation and Korea Overseas Fisheries Association to discussed ODA projects in Tuvalu.
Mr. Jae Young Lee, Director for Distant-Water Fishing Division from the Ministry of Oceans and Fisheries of Korea and his team from Korea reviewed an outline of the ODA project. This includes, building a community center (Fisheries Training Centre), a jetty, store and boatshed for the Tuvalu Fisheries Department and installation of solar panels for the two markets, NAFICOT & FOFA.
Korea gave a detailed presentation (PPT) explaining the 80 meters overall length of the jetty and its straight shape. Small fishing boats will be able to land alongside a new dock area which will be reclaimed. A 19 to 21 meter vessel may dock at this jetty, and more than 50 small fishing vessels can be berthed simultaneously, according to Korea. A hydraulic crane will be mounted on the jetty for loading and unloading of vessels.
Korea also assessed the Fisheries Community Center, which was planned to be constructed of concrete. Korea would implement the design in accordance with Korean construction requirements.
Apart from these discussions they also considered capacity building for Tuvalu Fisheries officers, and the planning of events. Korea inquired about Tuvalu's intentions to organize an event to promote the ODA project in which responds to climate change and also introducing Korean culture. A large function is planned for October/November to mark the start of the Project.
The team from Korea also had the opportunity to repair and deliver training on operating a new fish smoker and ice machine.
The Korean ODA project will start construction work in early 2024, and is expected to take three years to complete.
The Tuvalu Government sincerely appreciate the generous support and effort made by the Korea for this project and will fully cooperate for the success of the project.