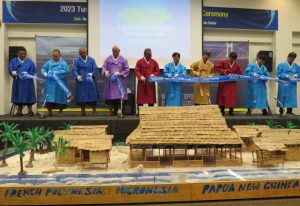 Funafuti, Tuvalu – A momentous celebration took place last week as Tuvalu and Korea joined hands to commemorate their long-standing and mutually beneficial cooperation, particularly in the flourishing fisheries sector. This historic partnership, rooted in trust and friendship, has been a cornerstone of both nations' prosperity.
Korean fishing vessels have been a common sight in Tuvalu waters since the early 1980s. Today, Korea stands as Tuvalu's most vital bilateral fishing partner, making an indispensable contribution to the government's revenue. This enduring connection has woven the fabric of these two nations, transcending borders and cultures.
The grand celebration in Funafuti saw the convergence of esteemed Tuvalu Government Officials, including the Deputy Prime Minister and Minister of Local Government, a dedicated Korean delegation comprising 39 members, and diligent staff from the Ministry of Fisheries & Trade. Over 200 invited guests added to the festivity, transforming the idyllic Funafuti Island into a symbol of international camaraderie.
The Republic of Korea, through its Official Development Assistance (ODA) Project, has extended a generous hand to Tuvalu, pledging an impressive US$5 million in financial assistance. These funds will be dedicated to the construction of critical infrastructure, including the Fisheries Department Training Centre, storage facilities, a boat shed, a fisheries jetty, and a solar system for the National Fishing Corporation of Tuvalu (NAFICOT) and the Fisheries Observer and Fisheries Assistant Office (FOFA). As a testament to the depth of their commitment, Korea has also offered to provide outboard motor training for Tuvalu's fisheries staff in Suva, Fiji, along with a unique Korean culture and language training experience for Tuvalu Fisheries Observers. This project stands as a historic first for Korea's involvement in Tuvalu, signifying a new era of cooperation and shared goals.
Korea's significance to Tuvalu extends beyond fisheries revenue. On average, Korean vessels purchase around 40% of Tuvalu's annual permitted fishing effort (PAE) each year but they are also the primary employer for Tuvalu's diligent Fisheries observers. Offers have also been made to employ Tuvaluan trainees in fish processing factories in Korea.
The celebratory program kicked off last week, at Queen Elizabeth Park Hall. Korean delegates organized a special program and engaging activities with the school's young students, fostering an atmosphere of shared learning and cultural exchange.
The main event, a grand spectacle held on November 3rd, 2023, at Queen Elizabeth Park Hall and Tomasi Puapua Convention Centre from 9:00 am to 12:30 pm, featured a ribbon-cutting ceremony and inspiring speeches. Tuvalu Acting Prime Minister, Hon. Ampelosa Tehulu, and Mr. Meyong-dal Song, Deputy Minister for Oceans and Fisheries of the Government of the Republic of Korea, shared their thoughts. The Ambassador for the Embassy of South Korea in Suva, Fiji, Mr. Park Youngkyu, also added his voice to this remarkable chorus of friendship.
Deputy Prime Minister and Acting Minister of Fisheries & Trade summed up the sentiment, stating, "I thank you for your support and generosity through this US$5 million project. Tuvalu has benefited from donations of goods and equipment from Korea in the past, and this major new project takes Korea's development cooperation to a new level." He further emphasized the profound and enduring bond in the fisheries sector, underscoring the vital role played by Korea in contributing to the Tuvalu Government's revenue.
The program continued with a captivating showcase of Korean culture, illuminating videos about Korea's contributions to climate change response, and further cultural exchanges and performances that celebrated the shared heritage of Korea and Tuvalu. The day concluded with a delectable brunch prepared by the Government of Tuvalu, symbolizing the unity and shared future envisaged by the event.
As the sun set on this remarkable day, the festivities continued with a closing dinner hosted at the Funafuti Lagoon Hotel. This exquisite evening brought together Korean VIPs and Tuvalu Government Officials, symbolizing the enduring friendship and the bright future of collaboration between these two nations. The event was graciously hosted by Mr. Meyong-dal Song, Deputy Minister for Oceans and Fisheries of the Government of the Republic of Korea.
The launch of the Korean ODA Project marks a significant milestone, underscoring the power of international cooperation, friendship, and shared aspirations. This initiative is poised to leave an indelible mark on Tuvalu's fisheries sector and the overall prosperity of the nation, heralding a new era of development and collaboration that will benefit generations to come.