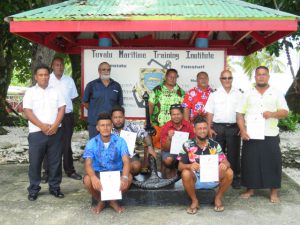 In a significant step towards bolstering its domestic fishing industry and providing employment opportunities for its citizens, Tuvalu Maritime Training Institute (TMTI) and the Tuvalu Fisheries Department (TFD) jointly celebrated the graduation of ten local Tuvaluans as purse seine crew members. This achievement aligns with Tuvalu Fisheries' primary objectives of nurturing opportunities for Tuvaluan fishing crew and ensuring that all Tuvalu-flagged vessels employ Tuvalu crew members.
The graduation ceremony took place at the Tuvalu Maritime Training Institute (TMTI), commencing at 10:30 am today, Friday the 6th of October 2023. The event featured remarks from key figures, including SPC Fisheries Development Officer- Fishing Technology William Sokimi, TFSP Manager Noa Petueli, Fisheries Deputy Director Fulitua Tealei, and TMTI CEO Uale Sinapati.
William Sokimi, the SPC Fisheries Development Officer – Fishing Technology, provided comprehensive training to the ten graduates on handling purse seine operations aboard vessels. TMTI staff members contributed to the program by delivering training on various aspects of sea safety, first aid, occupational health and safety, firefighting, and survival at sea. The intensive purse seine training program was successfully completed within a month and was funded by the Tuvalu Fisheries Support Program (TFSP2).
Expressing his appreciation, Uale Sinapati, CEO of TMTI, extended gratitude to Mr. Sokimi, TMTI and TFD staff, and TFSP for their collective efforts in the successful purse seine crew training. He emphasized the importance of maintaining and continuing such training programs in the future.
William Sokimi, the SPC Fisheries Development Officer, shared his pleasure in collaborating with TMTI staff, particularly in training the ten new crew members. He highlighted the training as an opportunity to rejuvenate and enhance their skills as seafarers. Sokimi expressed his commitment to ongoing purse seine training to ensure the recruitment of high-quality crew for future endeavours.
Fulitua Tealei, Tuvalu Fisheries Deputy Director, congratulated the ten new crew members on their achievements. She stated that the Fisheries Department is actively working on placing local crew members on Tuvalu-flagged purse seine vessels. Tealei expressed optimism about the prospects of Tuvalu crew members being placed on six purse seine vessels, including five Korean vessels and one Taiwanese vessel, in the near future.
The Government of Tuvalu remains committed to promoting employment opportunities on fishing vessels and has established new policies and regulations to ensure fair wages and proper care for local purse seine crew members by their employers. This initiative reflects Tuvalu's dedication to nurturing its fishing industry and providing valuable livelihood opportunities for its citizens.
The graduation of these 10 purse seine crews represents a significant stride in advancing Tuvalu's fisheries sector while empowering local talent and contributing to the nation's economic development.